Reader's Choice 2013 -
Click here to vote now!
Prep Baseball: Rancho Bernardo High's Bugg raising money with every strikeout
By Michael Bower
Parker Bugg was a freshman when 17-year-old Poway High student Chelsea King went for a run at Rancho Bernardo Community Park and was attacked and killed by a registered sex offender in February of 2010.
Like many others in the community, Bugg could not believe something so horrific happened where so many tended to live because of its safety.
Now, three years later, the senior right-handed pitcher for Rancho Bernardo is raising money to help ensure it never happens again.
Bugg, who earned a full scholarship to college baseball powerhouse LSU, announced his fundraising effort, "Strikeout Sex Offenders," last week.
Bugg is asking for people to donate money for each strikeout he records this season or to make a flat donation on his behalf.
All of the money raised will be going to the Chelsea's Light Foundation, which supports efforts "to eliminate harm to children by sexual predators through community activism, legislative reform, and education." The foundation also gives out scholarships.
"It all started with my official visit to LSU last November," said Bugg, who through Tuesday has 18 strikeouts. "They talked about how they have the highest attendance in college baseball and because of that they encourage players to give back to the community … I came home and talked about it with my parents and thought this would be the perfect idea."
Bugg, who stands 6-feet, 6-inches tall and hovers around 87-90 mph with his fastball, said so far he has raised in the neighborhood of $1500.
He had to get permission from the CIF San Diego Section, Rancho Bernardo athletic director Peggy Brose, head coach Sam Blalock and the Chelsea's Light Foundation to start the fundraiser.
"They were all for it," Bugg said. "They all thought it was a great idea and they are all supporting me on this."
Bugg made a two-minute video to explain the fundraiser. You can find the video on his website (www.parkerbugg.com), where you can also signup to make a donation. You can also view the video below.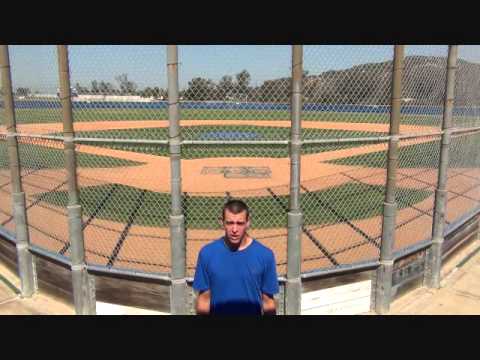 Bugg will update his website after each outing so people can follow along with the progress of the fundraiser.
"I just want to try to raise awareness so it will never happen again," he said. "I was also fortunate enough to earn a scholarship so maybe I can help somebody else get one."
Bugg is slated to pitch today against Helix at 3:30 p.m. at Granite Hills High School in the Lions Tournament.
Reader's Choice 2013 -
Click here to vote now!
Short URL: http://www.pomeradonews.com/?p=34243